Count on us

We count for you!
Data Processing
Traffic Counts
GEOVISTA analyses, visualises and prepares the manually or automatically collected data in accordance with your requirements. To this end, we use traffic technology software that has been developed specifically for this purpose. Traffic surveys are analysed using the programme KNOTEN 3.5 and 4.0 respectively, which provide among others the following outputs:

Creation of junction flow plans for the total motor vehicle and heavy goods traffic load as well as the peak hours a.m. and p.m.



Total load

Total load - heavy goods traffic

Peak hours a.m.

Peak hours p.m.




Preparation of bespoke analysis for select routes, vehicle types and time periods.
For example: total vehicle load - day (06:00 a.m. – 10:00 p.m.) and night (00:00 – 06:00 a.m. and 10:00– 12:00 p.m.)


Calculation and graphic presentation of dynamic hourly loads and load curves



Dynamic hourly load

Load curve




Tabular representation of traffic flows for each route in 15 minute intervals



Data sheets




Conversion in passenger car units




Total load (PC-U)

Data sheets (PC-U)



The Programme KREISEL is used for analysis of roundabout surveys.
It offers among others, the following options:

Graphic representation of traffic volumes either as a roundabout or a junction
Information on the vehicle load per arm



Total traffic load

Roundabout representation





The presentation of additional analysis, like the census of pedestrian and cyclist crossings, is submitted in tabular form: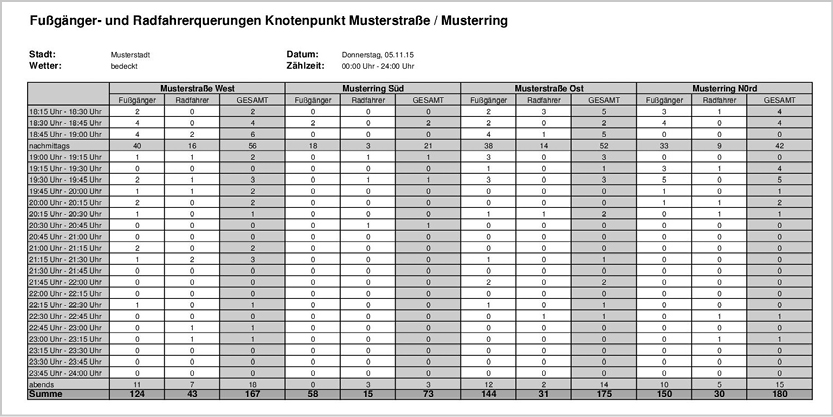 Table of pedestrian and cyclist crossings at the junction
---
Traffic Monitoring
In order to evaluate accident black spots, traffic incidents and behaviour, video footage is analysed to extract the information required. All observations are recorded with a time stamp. All observations can be compiled on a DVD, SD-card or hard drive (avi format).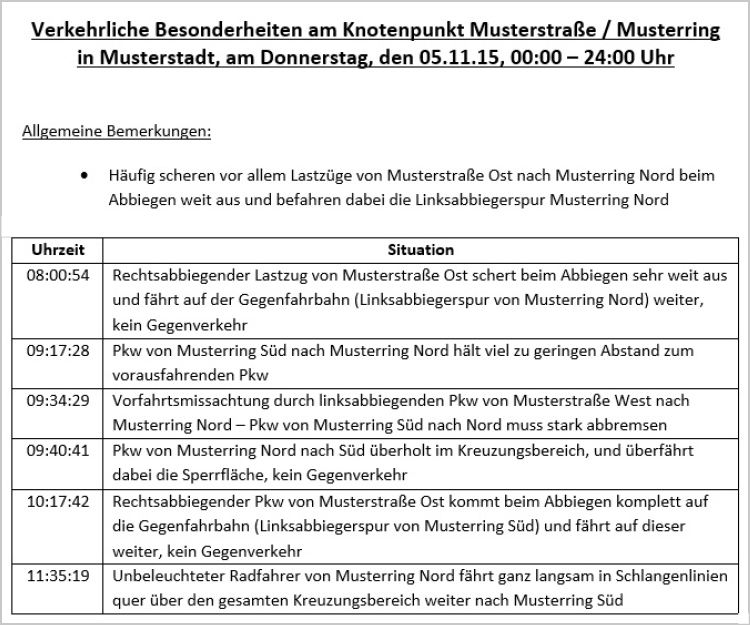 Table of traffic observations at a junction
---
Licence Plate Recognition
Licence plate recognition projects generally focus on determining origin, destination and transit traffic in a specific survey area. In the course of the data processing and analysis, we initially determine the traffic relations between the individual count points and subsequently visualise them in accordance with the customer specifications.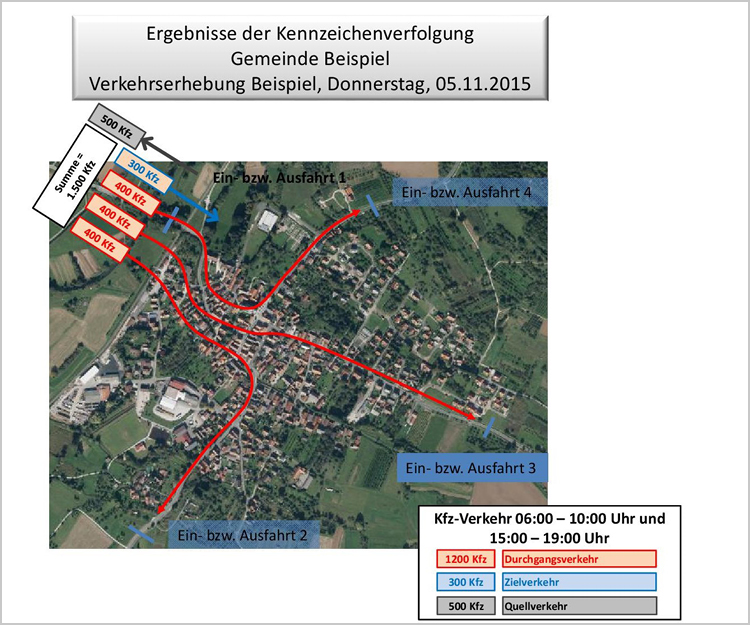 Example; graphic representation of traffic relations between measuring point 1 and points 2, 3 and 4
---
Traffic Survey
The field of traffic surveys encompasses such a broad spectrum, that a comprehensive summary cannot be given in a few lines. We would be happy to work out an individual solution for your specific project including preparation, implementation and analysis of the data.
Let us know your requirements

Contact

info@geovista.de

+49 (0)921 51678-38 u. -40